American Dreamspace - Four Season Sunrooms
The Dreamspace Four Season Sunroom/Patio Enclosure system is constructed of wood timber frames with wood framed walls and panelized insulated roof system insulated beyond state requirements for heating and cooling energy efficiency, creating a thermal isolation barrier against outdoor elements preventing the conductivity of heat or cold through the frame. The resulting interior space allows for efficient cooling and heating for year round comfort. All of our windows and doors meet stringent AAMA 101 and NFRC test requirements are Energy Star Rated and feature fusion-welded vinyl and insulated glass with dual or triple paned glass. These are the same high quality; energy efficient windows and doors that have helped millions of homeowners across the U.S. reduce their energy bills and live more comfortably.
"We make your dream room a reality" ™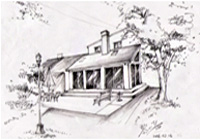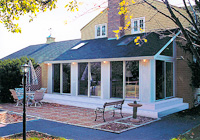 Features and Benefits
NFRC and AAMA tested, fusion-welded vinyl and insulating glass windows and patio doors -

You'll have superior protection against the outside elements including heat, cold, air and water.

Screen Room Conversion -

Sliding window sashes lift out for quick conversion to a screen room, allowing maximum ventilation without annoying insects.
This roof system provides superior insulation rated up to R-50, soundproofing and minimum maintenance.
Available triple-paned glass significantly increases U-values & energy efficiency

Enclosed insulated floor system -

covered in a moisture resistant tongue & groove sub floor over your existing decking or porch floor, for increased year round comfort.

Easy-glide slider windows and patio doors -

Double hung, bay, and casement styles also available, along with full-view entry doors.

*Energy Star Rated and Certified Windows and doors -

Superior energy efficiency

Increase the beauty, functionality and value of your home.
Bring outdoor living indoors without the outdoor elements of heat, cold, rain, snow, wind and insects.
Create a quiet and relaxing retreat from the rest of the home or for the perfect place for entertainment.
A home addition that is professionally designed and engineered that is affordable and easy to construct without disrupting the home.
Create a unique place within the home that will surely become the most favorite.
Custom made and designed to match your home's architecture. They are professionally installed and guaranteed
Sheetrock or solid tongue & groove wood walls and ceiling. It's your choice!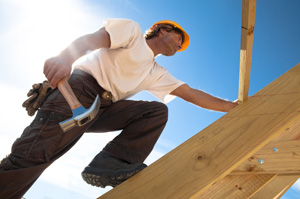 Most patio enclosure and sunroom companies label their rooms by the number of seasons you can utilize the room. In addition to thinking about what seasons of the year you want to use your new space, you also need to think about: What time of day do I want to use my patio enclosure or sunroom?
The unanimous answer...ANY time of day!
BEWARE!!!
Many patio enclosure and sunroom windows on the market are constructed of single pane glass:
• Single pane glass has a very low R-value of 1. This causes your patio enclosure to be cold in the morning when temperatures are lower. As temperatures rise during the day, the warm air from the outside flows through the single pane glass, which can make your sunroom uncomfortably warm during the afternoon hours.
All Dreamspace Patio Enclosure and Sunroom models are standard with dual-pane insulating glass and Warm-Edge Technology, increasing the insulating value of your sunroom's windows and sliding patio doors by 200%.
Insulating Glass Packages creating A ROOM YOU CAN USE 24 HOURS A DAY!
Dreamspace Patio Enclosures and Sunrooms offer two optional insulating glass packages constructed of Low-Emissivity (LoE²) Glass, turning your Dreamspace Patio Enclosure into The 24-Hour Room.™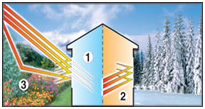 As shown in the diagram at right, LoE²:
Allows natural light to freely enter your Dreamspace Patio Enclosure and Sunroom.
In the morning hours, LoE² glass reflects heated air back into the patio enclosure and sunroom, keeping it warmer.
In the afternoon, LoE² glass reflects the warm outdoor air back outside, keeping your patio enclosure and sunroom cooler.
4 Season Sunrooms