American Dreamspace - Three Season Sunrooms

The Dreamspace 3-Season Sunroom/Patio Enclosure, Built to Perform
Our 3-Season Dreamspace Patio Enclosures and Sunrooms are designed to provide your family comfort and enjoyment during three seasons of the year! Like our Dreamspace All-Season Patio Enclosures and Sunrooms, our 3-Season Dreamspace also come equipped with Warm-Edge Technology. They also have Polystyrene Insulation to keep you warm on those chilly fall days and cool during summer.
Wall Features
5.5" Wall System
Expanded Polystyrene Insulation
Max Glass for maximum viewing area
Roof Features
Insulating Roof System
Standard with an (OSB) sandwich which allows the roof to be shingled to match your home and allows you to choose the ceiling material of your choice.
Insulating Panels provide excellent soundproofing and an insulating value of up to R-50 for your comfort.

This roof system provides superior insulation, soundproofing, and minimum maintenance.
Sliding Window System Features

Solid Vinyl Construction for energy efficiency
Fusion-Welded Frames and Sashes for strength
Dual-Pane Insulating Glass Sliding Windows, not inferior single paned glass units offered by our competitors
Warm-Edge Technology reduces condensation and seal failures
Self-aligning, Dual Tandem Brass Rollers glide along a monorail track for smooth, easy operation
Removable Track Liners for easy cleaning
Full Screens

Sliding Windows which are easily removed for quick conversion into a screen room!
Insulating Glass Packages creating A more comfortable space for extended seasonal use
Dreamspace Patio Enclosures and Sunrooms offer two optional insulating glass packages constructed of Low-Emissivity (LoE²) Glass, turning your Dreamspace Patio Enclosure into The 24-Hour Room™.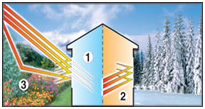 As shown in the diagram, LoE2:
Allows natural light to freely enter your Dreamspace Patio Enclosure and Sunroom.
In the morning hours, LoE² glass reflects heated air back into the patio enclosure and sunroom, keeping it warmer.
In the afternoon, LoE² glass reflects the warm outdoor air back outside, keeping your patio enclosure and sunroom cooler.
Energy Tax Credits with Dreamspace 3-season Patio Enclosures and Sunrooms

Dreamspace Patio Enclosures Sunrooms may qualify for the Energy Tax Credit when specified with one of our high-performance Low-E and Argon or Krypton gas enhanced insulating glass packages. Some restrictions may apply. Ask your sales representative for details.
3 Season Sunrooms